---
---
Contact
Chair of Monetary Economics
Secretary:
Sabrina Rockau
phone: (+49 345) 55 22930
moma@wiwi.uni-halle.de
room 308
Universitätsring 3
06108 Halle
Office hours:
Please write an E-Mail.
---
---
Login for editors
---
Monetary Economics
Herr Professor Kriwoluzky ist im WiSe 2018/19 beurlaubt und wird keine Veranstaltungen anbieten.
W E L C O M E
Here you can find some information about our research and about us.
Associate Editor at the European Economic Review
Prof. Kriwoluzky has been appointed as an associate editor at the European Economic Review.
Award for best Masterthesis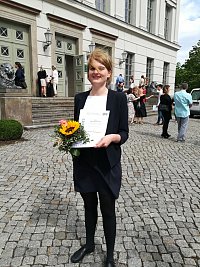 Ms. Ettmeier received for her master's thesis "Monetary policy shocks: a quality assessment" the L- V. Kantorovič research award. The award was presented on June 30, 2017 during the graduation ceremony of the economics department.
Master Empirical Economics and Policy Advice
Here you can find some information about the Master of Empirical Economics and Policy Advice (M.Sc. Empirische Ökonomik und Politikberatung):
http://master-politikberatung-halle.de
---
Contact:
Prof. Dr. Alexander Kriwoluzky
Room 303
Universitätsring 3
06108 Halle
E-Mail: alexander.kriwoluzky@wiwi.uni-halle.de
Postal address:
Martin Luther University Halle-Wittenberg
Faculty of Law, Economics and Business
Department of Economics
Chair of Monetary Economics
06099 Halle
---
---